The most common reason to get a jewelry appraisal is for insurance coverage. Determining the current market value of your jewelry is the only way you can be sure your insurance is adequate to cover it against theft, loss or damage. However, there are many other reasons for appraisals.
With the increase in gold, diamond and gemstone values, appraisals take on even greater importance. An experienced independent gemologist/appraiser can verify that your diamonds and other jewelry are appropriately valued to replace them in today's market.
How can you tell you've found a professional who will safeguard your valuables and deliver accurate results? Whether you would like an insurance appraisal, estate appraisal or liquidation value appraisal, Matthew's Jewelers G.I.A. Graduate Gemologists and appraisers have over 150 years of combined experience in jewelry appraisals.
Each item in your appraisal is thoroughly cleaned, precise measurements of your stones are recorded and your metal is tested and weighed.  You will receive color digital photographs taken from multiple angles.  Once the appraisal is complete, you will receive two copies, one of which is laminated.  Your results are backed up and stored in our computer system, which is housed in our secure vault, should you ever need a copy.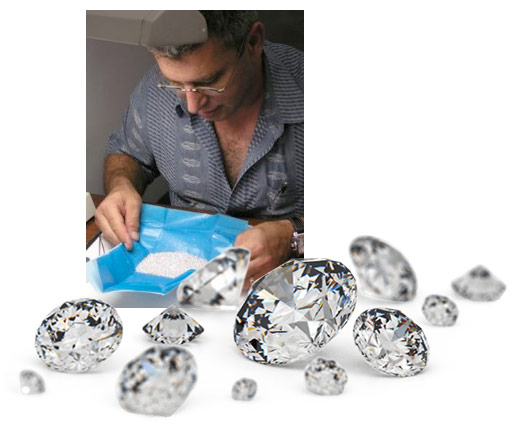 Matthew's Jewelers team of diamond experts travel the world for the finest diamonds. They purchase these diamonds as a manufacturer, not as retailer, therefore bringing the savings back to you.  This provides you with a tremendous advantage in both quality and in price.
Matthew's Jewelers has long-standing relationships with world-renowned diamond cutters. Our team personally travels overseas and spends countless hours sifting through thousands of conflict free stones to bring you only those that meets the strictest criteria for quality and value. All diamonds are certified by the Gemological Institute of America.
Real Expertise & Jewelry Repair
With decades of manufacturing experience, Matthew's Jewelers offers on-site jewelry repair and service for all types of watches, including complicated automatics.
Matthew's Jewelers master craftsmen utilize advanced equipment including a state-of-the-art laser welder, CAD/CAM (computer aided design and manufacturing), computerized engraving, and vacuum lost wax casting.
If you have an exquisite piece, family heirloom or sentimental jewelry in need of attention, please stop by Matthew's Jewelers. Trust your precious pieces to the experts and leaders in the jewelry industry.  Matthew's Jewelers knows more about repairing jewelry because they manufacture jewelry.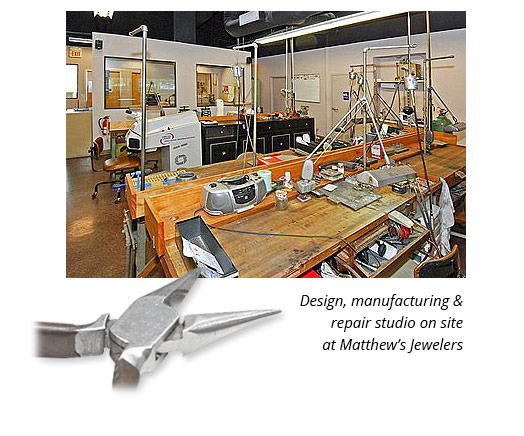 Custom jewelry design at Matthew's Jewelers is where the shopping experience is just as grand as the jewelry.
The store features award winning jewelry and when you look beyond the showcase you are treated to an impressive manufacturing and design facility.
OUR PHILOSOPHY IS "IF YOU CAN IMAGINE IT, WE CAN CREATE IT".
Matthew's combines the art of traditional design with the extraordinary capabilities of modern technology. They create beautiful, timeless pieces by employing old world methods such as hand-carved molds, wax prototypes and gold casts with the new state-of-the-art Computer Aided Design and Computer Aided Manufacturing (CAD/CAM).  Recently, Matthew's Jewelers added two 3-D printers adding another method of creating custom jewelry.
We can help create the custom piece of jewelry you've always dreamed of! No appointment is necessary.  We have three designers on staff to assist you in the design process.  Just stop by, we would love to show you.
You will have the opportunity to see your jewelry design in virtual 3D, on-screen with photo-realistic images of your custom-created piece.  View and "visually feel" a finished piece of jewelry so you know exactly what your piece will look like before it's actually made.
Matthew's Jewelers combines the art of traditional design with the extraordinary capabilities of modern technology to create these spectacular pieces.